DEL Records presenta – "Los Emojis App" – Descarga Ya!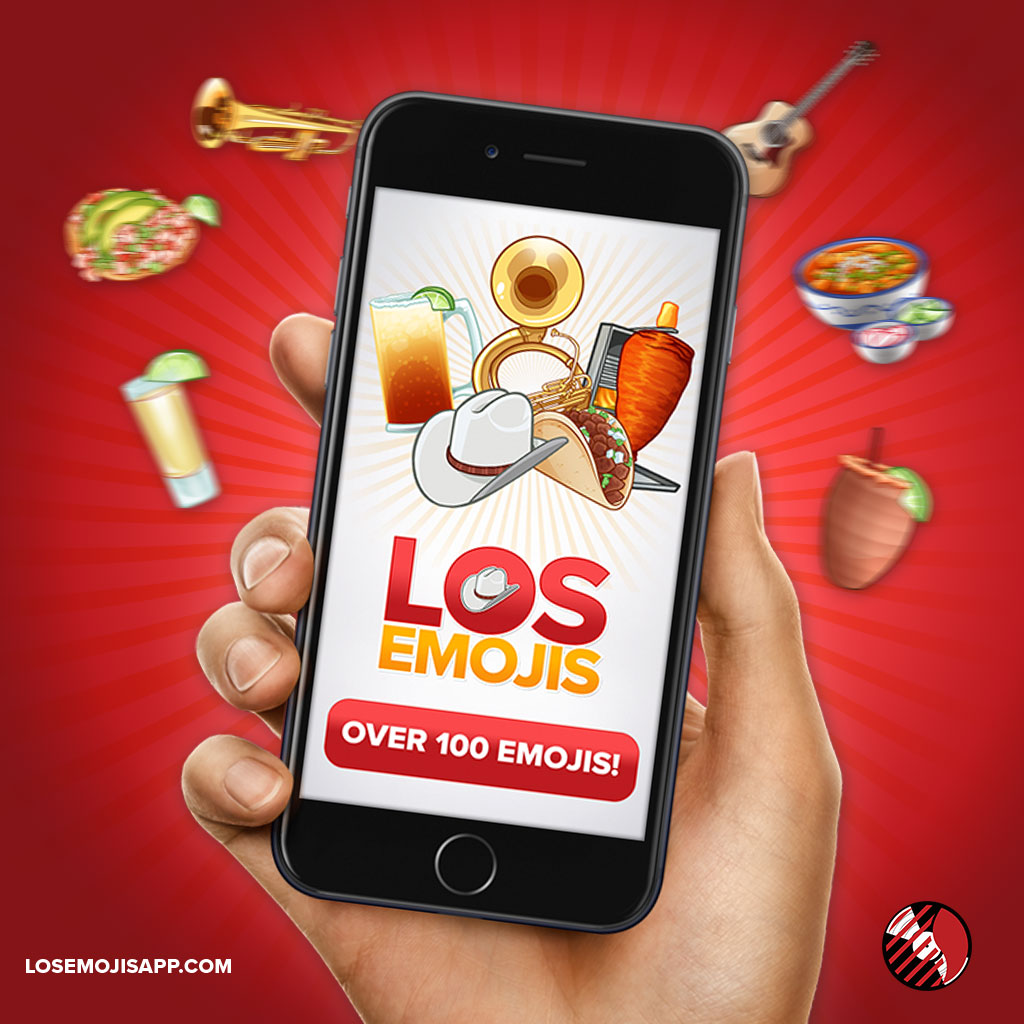 La aplicación de Los Emojis cuenta con más de 100 únicos Emojis en español, pegatinas, filtros, GIF animados y mucho más! El contenido se centra en las culturas populares hispanas, latinas y mexicanas con regiones, personas, comida, música, videos, deportes, juegos, animales y frases que ayudarán a todos a comunicar sus culturas mejor y como nunca.
La aplicación de Los Emojis presenta Emoji y paquetes de artistas de DEL Records, Angel Del Villar y afiliados, así como contenido exclusivo que no se encuentra en ningún otro lugar del mundo! La aplicación contará con actualizaciones de paquetes GRATIS y paquetes pagados durante todo el año. Descargar ahora y ve de que todo el mundo está hablando! ¡Por favor, comenta, comparte y califica la aplicación!
@LosEmojisApp Facebook, Twitter, Instagram!
#LosEmojisApp #DELRecords #DELNation #Emojis
For more information, log in to www.losemojisapp.com
AWARD-WINNING MEXICAN REGIONAL MUSIC RECORD LABEL "DEL RECORDS" PARTNERS WITH STUDIO71 AND FOTOBOM MEDIA TO LAUNCH THE FIRST SPANISH THEMED EMOJI APP 'LOS EMOJIS'
DEL RECORDS HAS BEEN INFLUENCING MILLIONS OF MILLENNIAL FANS IN THE U.S & MEXICO THROUGH MUSIC, DIGITAL PLATFORMS, TOURS & NOW EMOJIS.
Los Angeles, CA, USA – June 27, 2017: Award-winning entertainment company, DEL Records has announced the launch of its emoji app Los Emojis that features more than a hundred unique Spanish-based emojis, stickers, filters and more. With the increasing use of emojis in day-to-day conversations, the release of the app will help fans and millennials growing up in Mexico and the United States to add a fun Spanish twist to their texts. Los Emoji is available on both iOS and Android for $0.99 download. The app will come pre-loaded with a series of free and premium paid packs containing hundreds of additional emojis.
"Many people know DEL Records as one of the most successful regional Mexican music labels. We have now taken a new step in the field of entertainment and technology with the launch of the 'Los Emojis' app," said Angel Del Villar, Founder and Owner of DEL Records while talking about the new app. "We understand our audience and this app is a much needed utility on their phones," he added further.
Del Records has developed the app in association with Studio71 and Fotobom Media. Studio71 is known for creating pathbreaking products for its creators. Javon Frazier, EVP of Strategy and Business Development at Studio71, commented, "The success of our products is a direct result of our collaborations with passionate creators. The creation of the Los Emojis app is the first of many steps we will be taking in our partnership with Del Records. We definitely believe that the app and its content will resonate with anyone who has an affinity for the Spanish culture, and we will continue to add more features to it over the coming months."
The content of the app revolves around Hispanic, Latin and Mexican-American cultures, regions, people, foods, music, videos, sports, games, animals as well as everyday life. Los Emojis also features emoji likenesses of several DEL Records artists, Angel Del Villar and affiliates as well as other exclusives.
"We're excited to partner with DEL Records and Studio71 on Los Emojis," said Fotobom Media CEO Andrew LaForge. "The Hispanic community will love using our geofilters, stickers, and gifs directly in their favorite messaging apps. We're constantly innovating to bring even more interesting use cases to messaging, so fans should keep an eye out as we add even more cool features to Los Emojis."
Since its launch in 2009, the Award-Winning Record Label has always brought the highest quality of entertainment to its fans and this app is yet another contribution by the company to entertain its growing number of fans. The company has won several billboard awards and according to Social Blade, LLC, a statistics website that measures YouTube accounts worldwide, the DEL Records YouTube Channel ranks in at 259th place worldwide right behind other popular channels featuring Beyoncé, Rihanna, Coldplay, Ricky Martin, Disney, and EDM artists.
For more information, log in to www.losemojisapp.com
About DEL Records
DEL Records is the most successful Latin independent entertainment label in Regional Mexican music today. Since its launch in 2009, it has created an innovative and successful number of influential Artists and Music within its walls. With millions of followers and fans worldwide, the award-winning company consists of DEL Records, DEL Publishing, DEL Studios and DEL Entertainment. Latin superstars Gerardo Ortiz, Regulo Caro, Luis Coronel & Ariel Camacho have been featured on DEL Records. In addition, DEL Records specializes in developing new talents such as Ulices Chaidez y Sus Plebes, Los Plebes del Rancho de Ariel Camacho, Banda Culiacancito and others.
For more information, please visit:
www.DELrecords.com
About Fotobom Media
Fotobom Media Inc, a leader in the rapidly growing "media for messengers" space, was formed by Stanford University students and is based in San Francisco.  Utilizing its advanced tools, Fotobom Media leverages its content platform and unique tools (some only previously available in Snapchat/Facebook) to develop and distribute, unique content campaigns for brands, sports teams, celebrities, and more around the world. Through its unique distribution partnerships the company reaches tens of millions of daily active users.
About Studio71
Studio71 is the global media company for top creators across YouTube, Facebook, Instagram, SnapChat and Twitter. Featuring Lilly Singh a.k.a IISuperwomanII, Rhett & Link, Logan Paul, Shay Mitchell, Matthew Santoro, Flula Borg, Epic Meal Time, Roman Atwood, Family Fun Pack and global superstar Dwayne "The Rock" Johnson, Studio71's 1,300 channels drive more than 7 billion monthly views and offer four times the average channel engagement. The company is a leader in results-driven branded content offering full-service strategy, creative, research, media and cross-platform activations for its clients. As a best-in-class production company, Studio71 develops, produces and distributes original programming across social media, television and film. It is part of the ProSiebenSat.1 Group and is headquartered in Los Angeles with offices in Berlin, New York, Toronto and London.